College of Education (Phase II) Collaborative Teaching and Learning Building
$4 million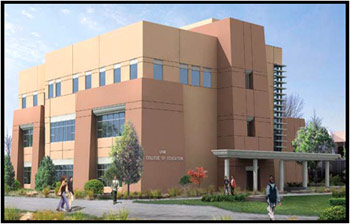 This building will cement a partnership between the College of Education and the College of Arts and Sciences to provide new collaborative learning environments that faculty from across the university (multi-disciplinary) can use for instruction and demonstration purposes. Together, the two colleges provide 82 percent of the student credit hours (SCH) generated by lower division courses and 68 percent of the SCH generated overall.
UNM needs replacement classrooms for those built 30 years ago, which are now obsolete and whose size, configuration and infrastructure cannot support changing learning environments and distance learning technologies. The next generation students (i Generation) are born to technology and so learn differently than generations that preceded them. With the replacement of these classrooms, it is anticipated the new facility will provide backfill space for graduate student assistant offices as well as for other academic support needs.
It is also anticipated that the innovative classrooms will result in higher retention and graduation rates. These experimental learning spaces will serve as a model for the state of New Mexico and data will be generated on their overall utilization for purposes of identifying increases in student retention. Some trial courses have already led to an increase in retention and illustrate how faculty can work collaboratively to provide new instruction models.